Have you ever thought about being an instructor and hosting your painting courses online? If so, this time, we picked out 5 online course platforms ( Creativebug / CreativeLive / Brit+Co / Craftsy / Skillshare among ) tons of them for you. We will give you some important factors you should consider when choosing, including a brief introduction of the platform, the cost, the website traffic, also the most important thing of all, the possibility to host online courses on the platform.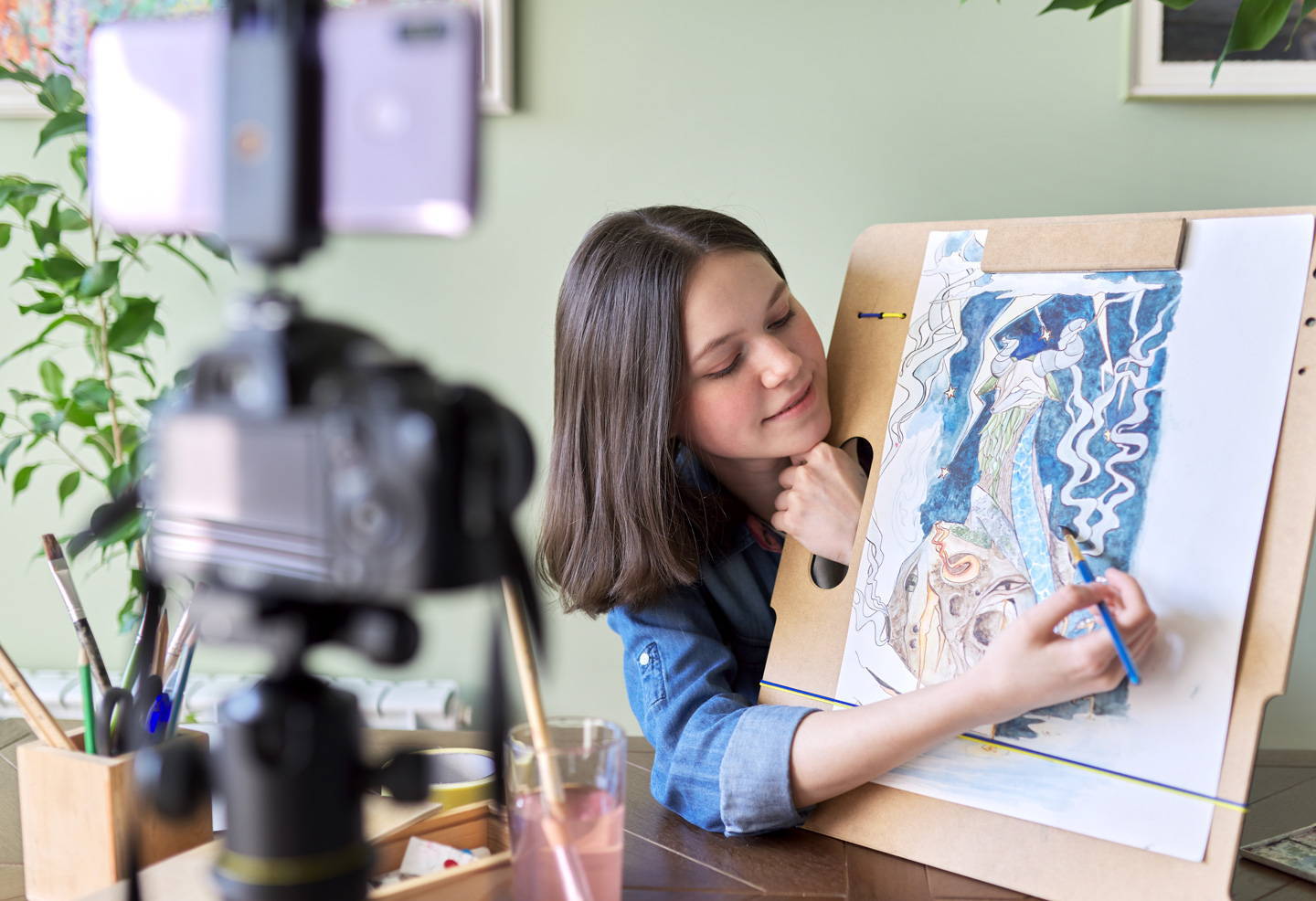 If you're too busy to read this article, here's a shortcut for you:
Choose Skillshare: If you are a newbie in teaching, Skillshare provides almost everything you need in both teaching and learning. Also, they give information about how you can earn money by teaching on Skillshare.

Choose Creativebug: If you are a well-prepared and experienced artist specialized in arts & crafts, all you need is a professional, creative team from Creativebug that can help you film your online courses.
Want to know more about these platforms and the reason why we choose these two for you, just keep reading.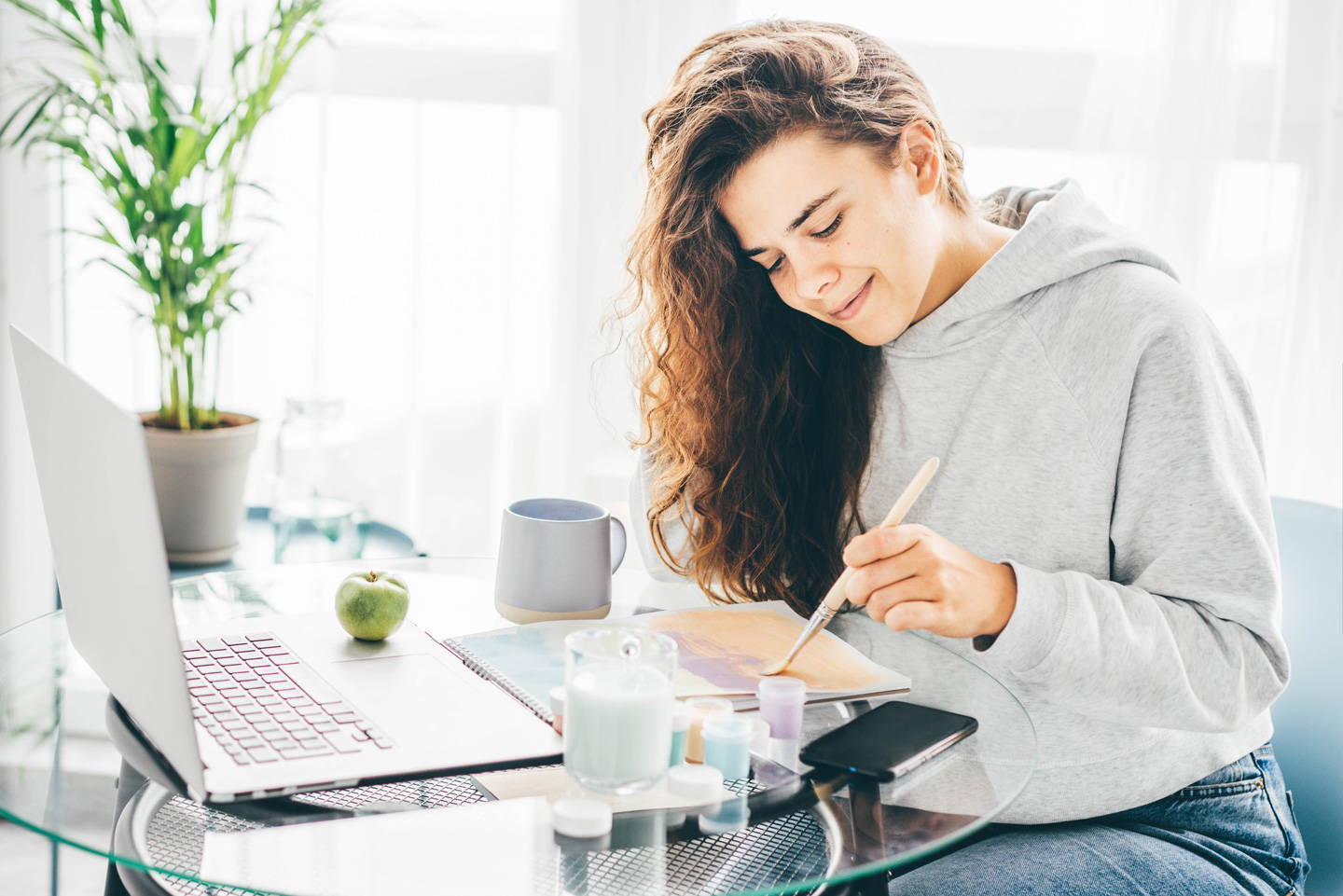 In recent years, people tend to take online courses due to their convenience and efficiency. There's no need to travel far, also no need to spend a lot of money and time, they can grab information quickly and pick up new skills by learning from the experts in different fields anytime and anywhere. No matter what resources people choose to learn online, undoubtedly, there has been a significant increase in usage since coronavirus struck.
To maintain a social distance, it is safer for people to spend most of their leisure time staying at home. Therefore, they need to find interesting activities, including learning, to make good use of their time and to combat boredom.
What can you do for them?
Everyone can create art and we encourage them to share their artwork with the world. Of course, some were born to be talented artists, but others just need a little inspiration and a gentle push to help them build self-esteem. What you can do is start to use your talent and skills, to perform and be recognized.
You may wonder how to make this work? According to the research, online courses that include video are more effective in helping students remember the information because people learn better by seeing and hearing than just reading. Therefore, we will recommend you host an online video course!
We know it is not easy to make decisions when there are a lot of articles talking about the best online course platforms. Therefore, we collect the information for you in advance and tell you which platform you should use for hosting your own painting courses.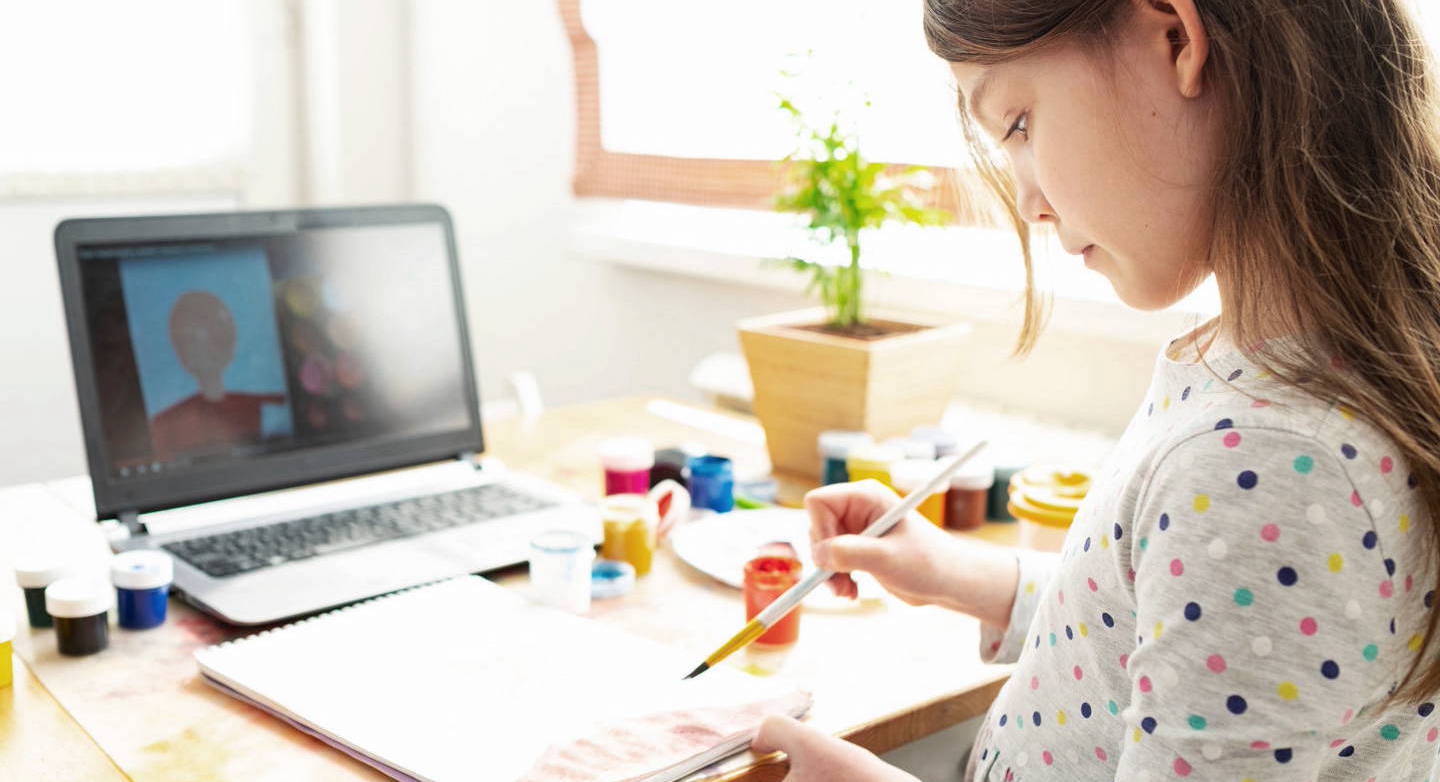 The 5 Best Online Platforms for Artists to Host Online Painting Course
Since we are helping you choose the platform to host online painting courses, we focus more on the ones which are suitable for art lovers, and they are Creativebug, CreativeLive, Brit+Co, Craftsy, and Skillshare. Firstly, the website traffic is a consideration and will give you a rough estimate of your potential audience. The information below is the website traffic of the platforms we choose for you.
| | |
| --- | --- |
| Online Course Platform | Traffic Over the Last 6 Month |
| | |
| | |
| | |
| | |
| | |
After comparing the website traffic, we would like to introduce the platforms individually with a brief description of the platform and if it's possible for you to host online courses, so you can know more about the platforms you may choose in the future.
How much does Creativebug cost?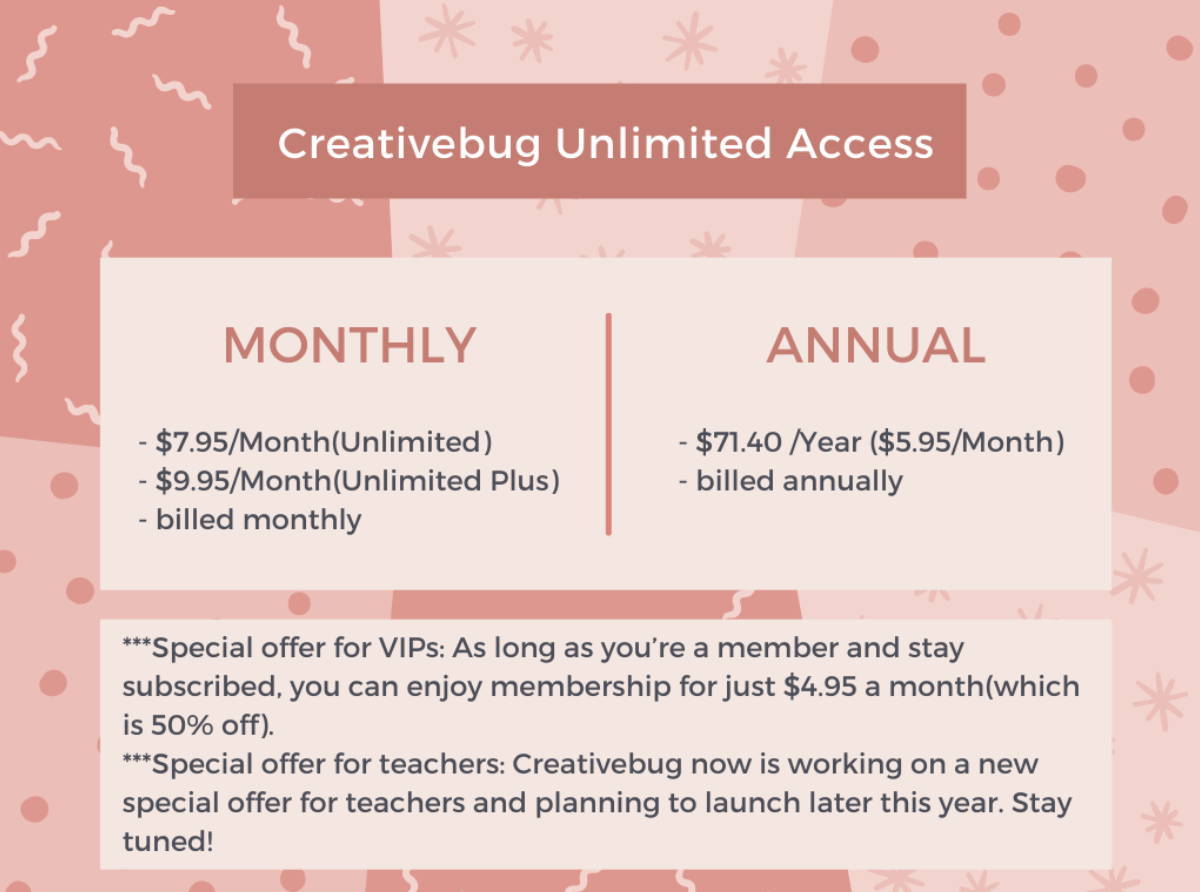 What can you learn from Creativebug?
With almost 1,500 on-demand videos and classes, Creativebug is seen as an art lovers' paradise. You can find the courses you might be interested in by filtering different craft types, specific techniques within each craft, all skill levels, and even instructors. New classes from top artists are added to Creativebug every day while none of them will expire.
Creativebug is particularly strong in areas like quilting, knitting, and art+design. The classes are hosted by expert art and craft teachers or artists. For one thing, you know you will always get quality classes here; for another, it is a platform for skill-building rather than beginner-level from scratch. Moreover, a percentage of your subscription dollars goes to support nonprofits in art education.
Can you teach on Creativebug?
Yes, you can contact them and provide all of the following they need below:
- Class proposals/ideas you may have
- Links to your website where you teach/sell/post your craft
- Social media links (Facebook and Instagram) related to your craft
- Bio (about you, and what inspired your craft)
If you are interested in teaching classes, go fill out this class proposal document: https://creativebug.typeform.com/to/coRSH8cK.
How much does CreativeLive cost?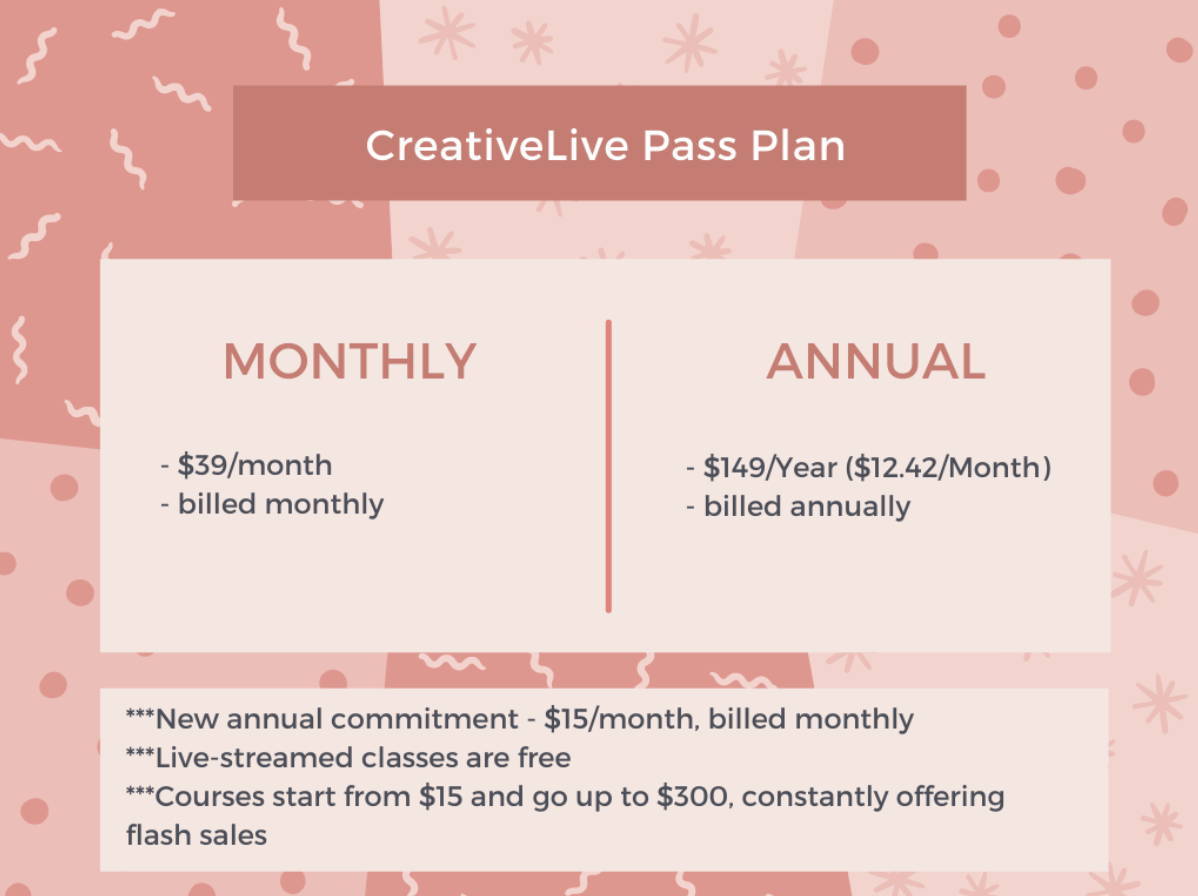 What can you learn from CreativeLive?
Learning on CreativeLive, you are learning from the best of the best and the classes range from art & design, and music, up to business & marketing, Etsy, entrepreneurship, and self-improvement. Exclusive new series released weekly. You can get inspired by streaming 2,000+ high-quality classes ranging from fundamentals to advanced techniques.
There's more to CreativeLive than a whole slew of classes. As a nice touch, they have a community section featuring a photography podcast, stories about creatives, an instructor bio section, and a blog.
Can you teach on CreativeLive?
Yes, you will need to go to the website:   https://www.creativelive.com/teach
Submit your proposal with what you would want to teach, links to any websites with your work, social media sites, or even videos of your leading instruction.
How much does Brit+Co cost?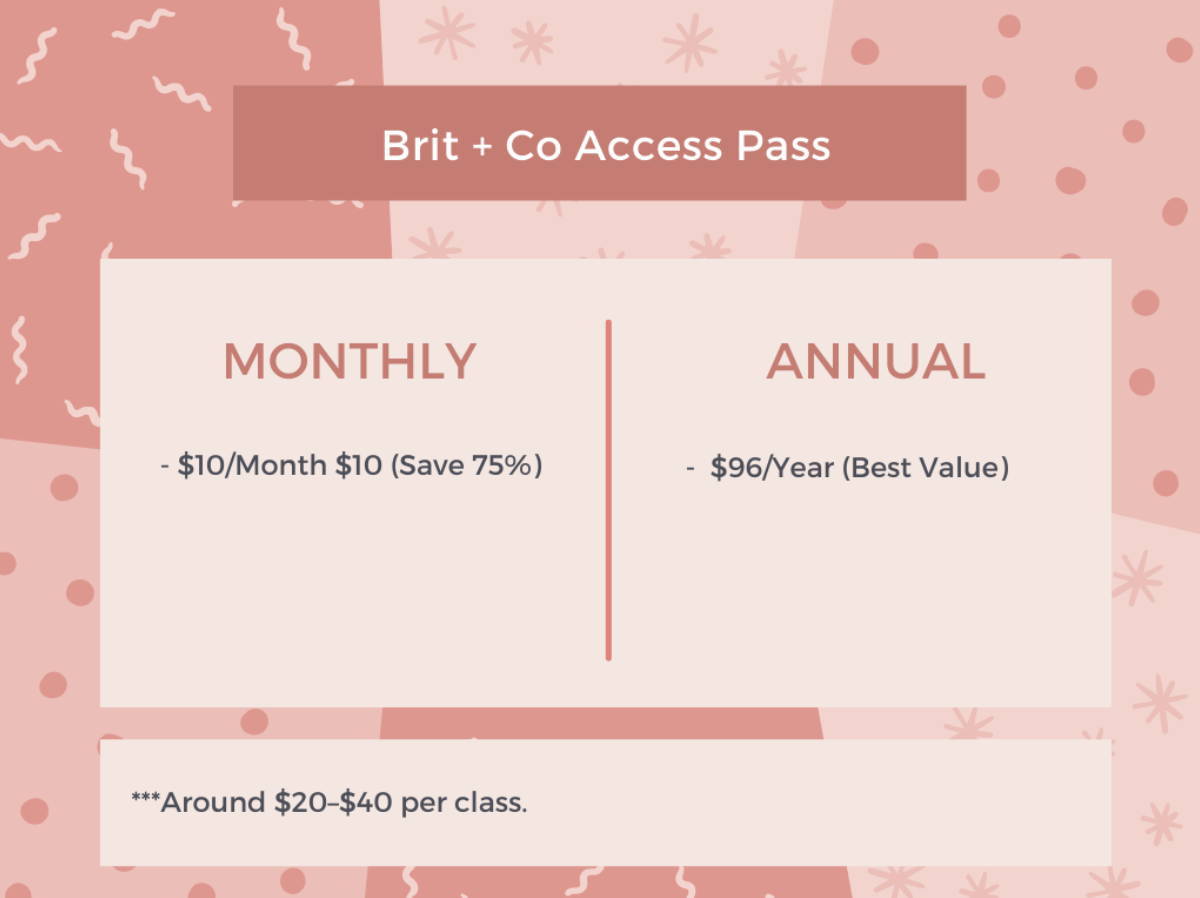 What can you learn from Brit+Co?
Brit + Co inspires, educates, and entertains women who share an entrepreneurial and creative spirit. Their mission is to ignite the creative spark in everyone and they offer a wide range of classes to help women connect to their creative side.
All their 120+ classes are hosted by professional female instructors, and these classes are beginner-level and range from art and design to style and DIY home decor.
Can you teach on Brit+Co?
Currently not available because they seem to have their own instructor team.
However, according to the artist who has been working with Brit+Co, it is possible that when the team sees you and is interested in your art, they will contact you directly and invite you to film courses at their office. Also, they are actively looking for content editors, software experts, designers, videographers, and commerce/operations gurus. For further information, you can check out the open positions on the website.
How much does Craftsy cost?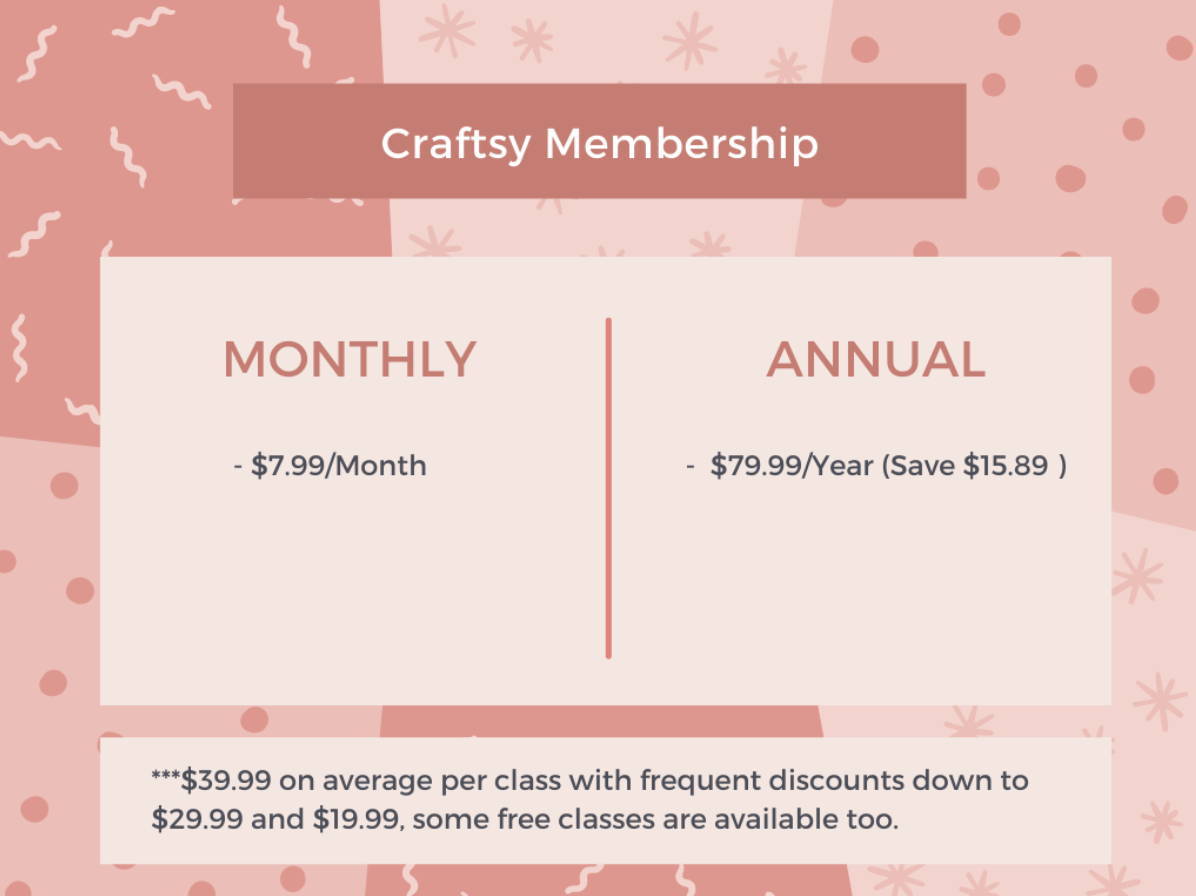 What can you learn from Craftsy?
Craftsy is an online resource that offers 1,500+ high-quality, craft-inspired courses that cover topics such as cooking and baking, weaving, painting, gardening, writing, and also photography.
With 21 categories to choose from, you'll never run out of inspiration. You will find tons of ideas and inspiration even in their free courses and live streaming events. The well-thought-out and helpful courses made by highly talented instructors can take your talents to the next level or improve your craft business.
Can you teach on Craftsy?
Yes, if you have ideas for new classes, you can send those to the Craftsy Instructor Relations team. They have a state-of-the-art video production facility within their home office, which means most of their filming and production of new classes take place in their studio.
How much does Skillshare cost?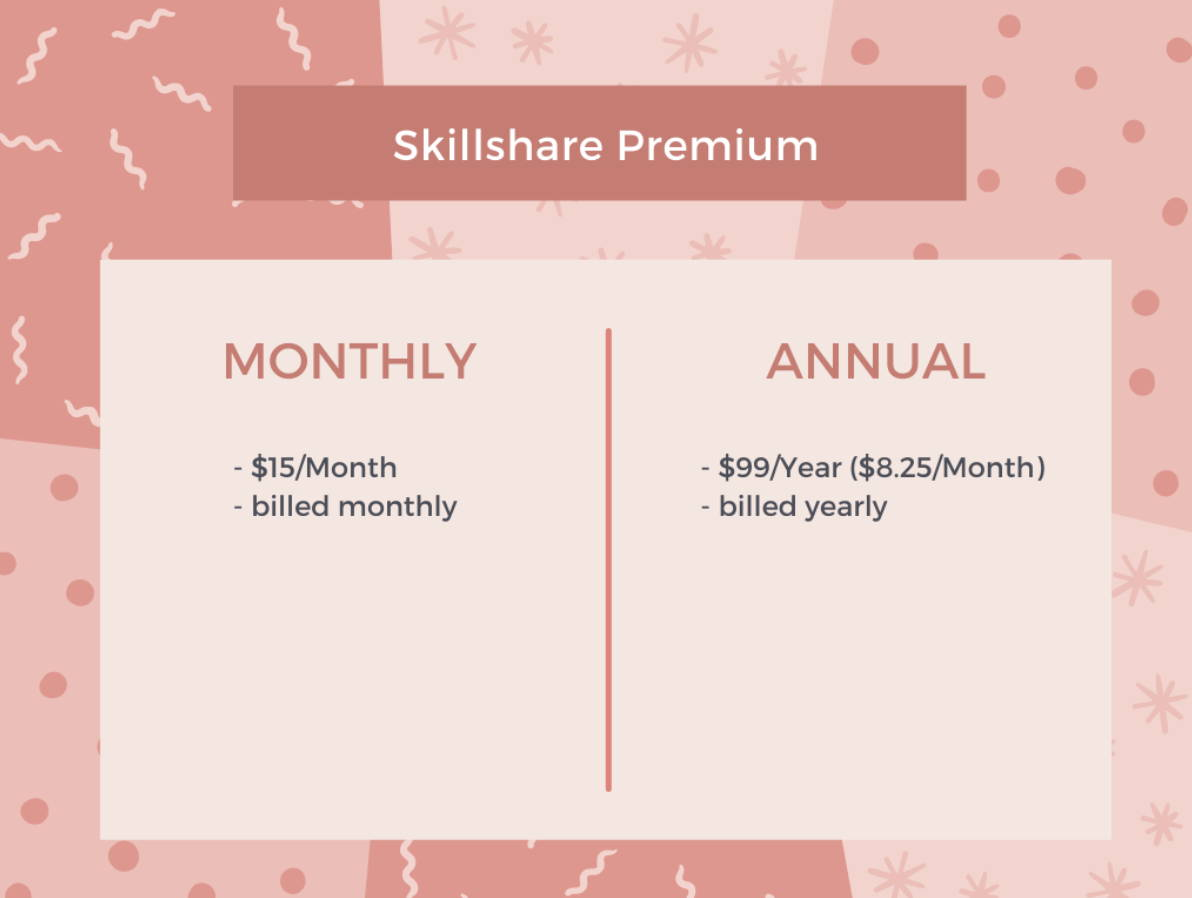 What can you learn from Skillshare?
Since this platform is focused on creators, makers, and entrepreneurs that want to develop new skills, sharpen existing ones, or focus on career advancement, freelance workers or small businesses are the ones that will enjoy Skillshare the most.
With Skillshare, you can join an online learning community that offers over 27,000 online classes in art, design, craft, business, lifestyle, and more. These online classes include video tutorials, a discussion board to interact with other students, and a list of the resources that you will need and the details about the project.
In addition to classes that run the gamut of subjects, Skillshare also offers workshops. The designated schedule set by instructors will make sure you are on the right track while you can share feedback and learn together with a group of other students.
Can you teach on Skillshare?
Yes, anyone can design or teach a class on Skillshare. Many creative people like photographers, artists, or bloggers choose to use Skillshare for teaching new skills.
The teacher handbook on the website shows you how to arrange your own online course step by step and tells you what should be included. These courses consist of high-quality video classes with at least 10 minutes long, discussions on topics, a class project, and well-organized content. High-quality classes are eligible for special promotions or features like a Staff Pick badge, which help further raise visibility and credibility on Skillshare.
When it comes to how to get paid, undoubtedly, teachers earn money when students watch their classes. According to the handbook, each month, 30% of Skillshare's total Premium Membership revenue goes to a royalty pool for teachers.
Teachers are paid from the royalty pool based on their share of the minutes watched by Premium students (both paying members and those in free trials) across the platform each month. You must get a minimum total of 30 Premium minutes-watched across all of your classes within a month in order to receive a payment for that month. Also, you can get a $10 referral bonus for each new Premium Member you bring to Skillshare.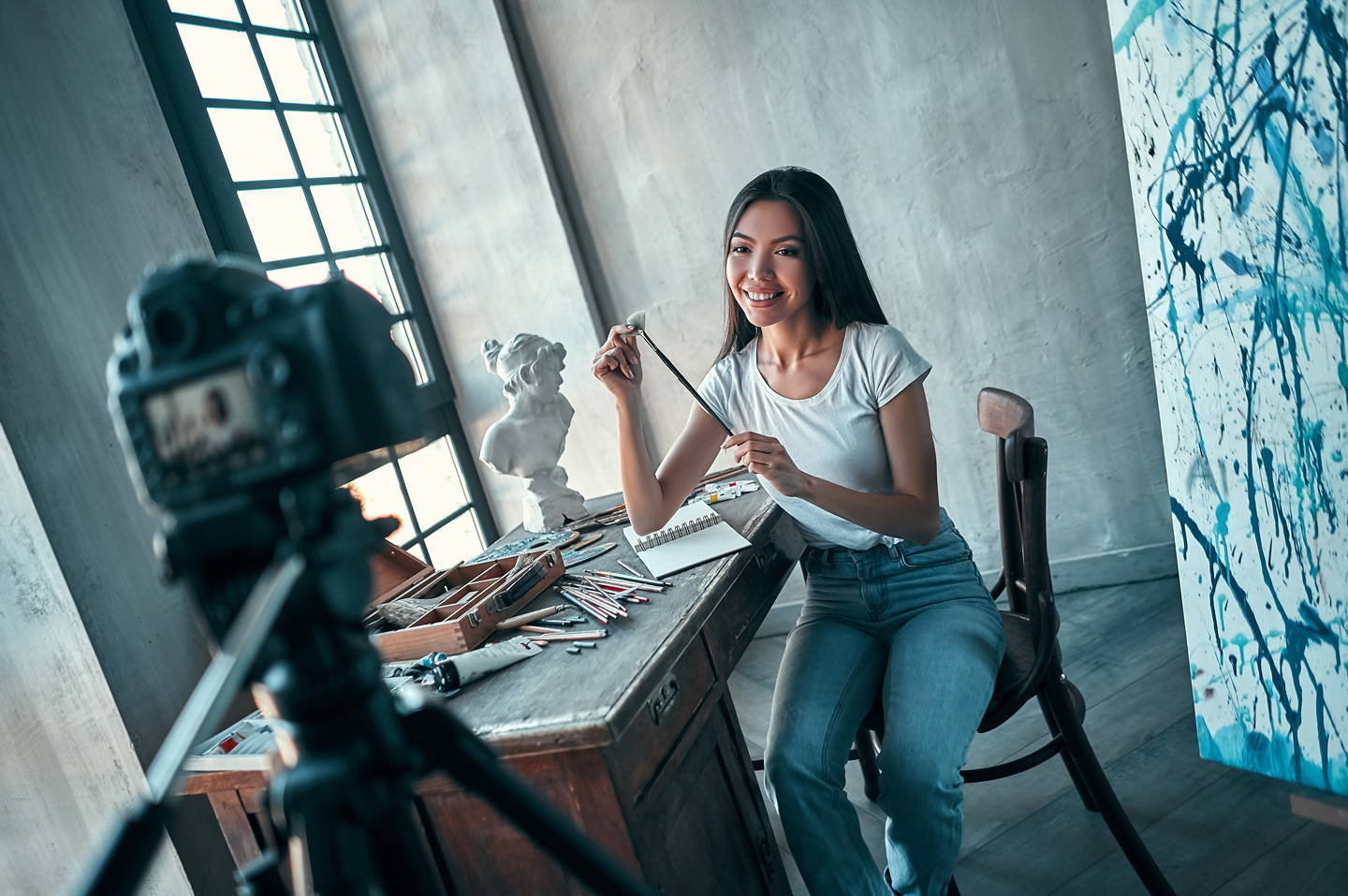 Which platform should you use to host your online painting courses?
Most recommended: Skillshare

It is the one with the most website traffic among the five platforms we chose.

As we mentioned above, everyone can take and teach classes on Skillshare, hence the rules of the platform should be much simpler than others.

The clear, easy teacher handbook and the transparency of information, including earning revenue, make Skillshare a perfect platform to host courses online and even earn money from them.

While a lot of people are using Skillshare, you can get the information or reviews you need easily. After collecting the information, you are able to design your own courses with better content.
What should you do before hosting your online painting courses?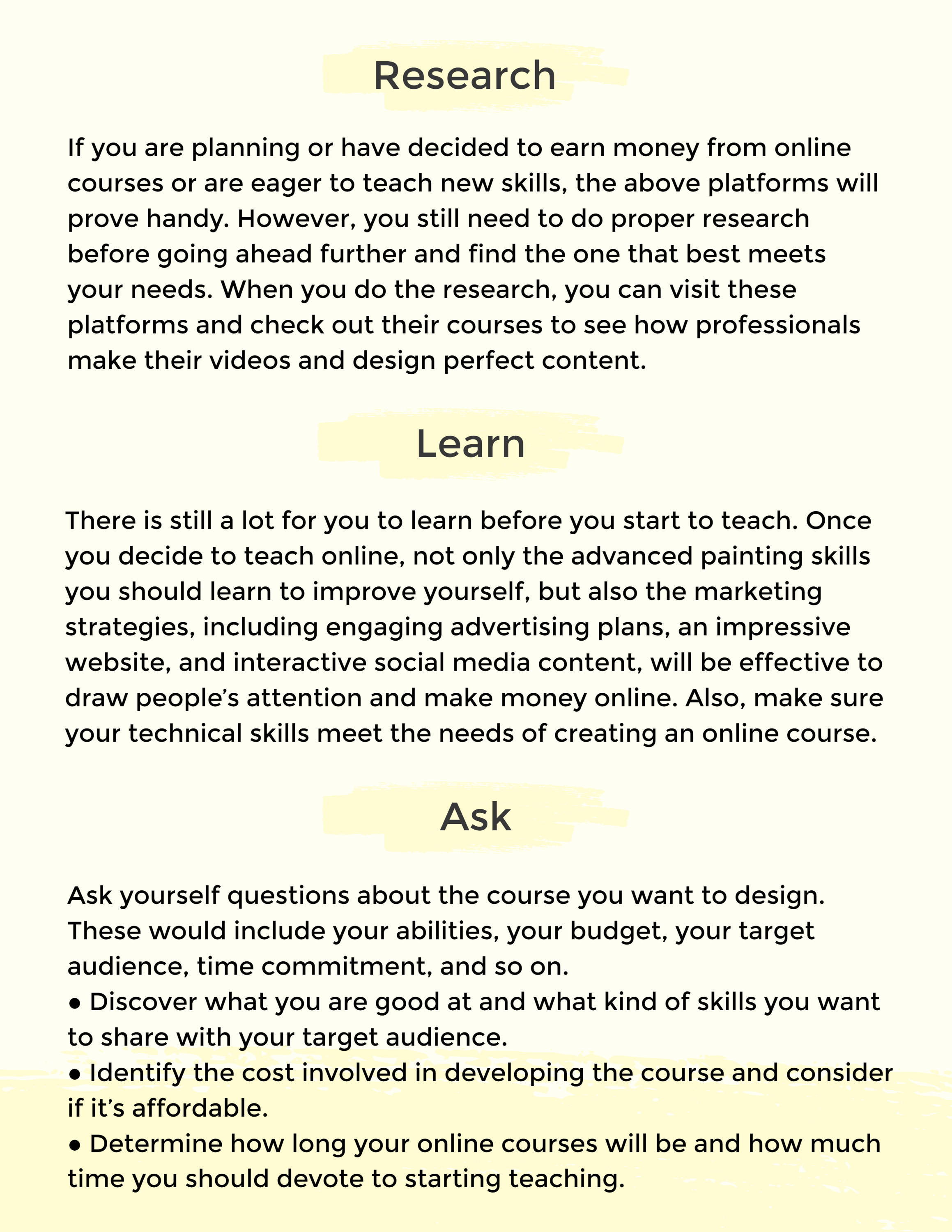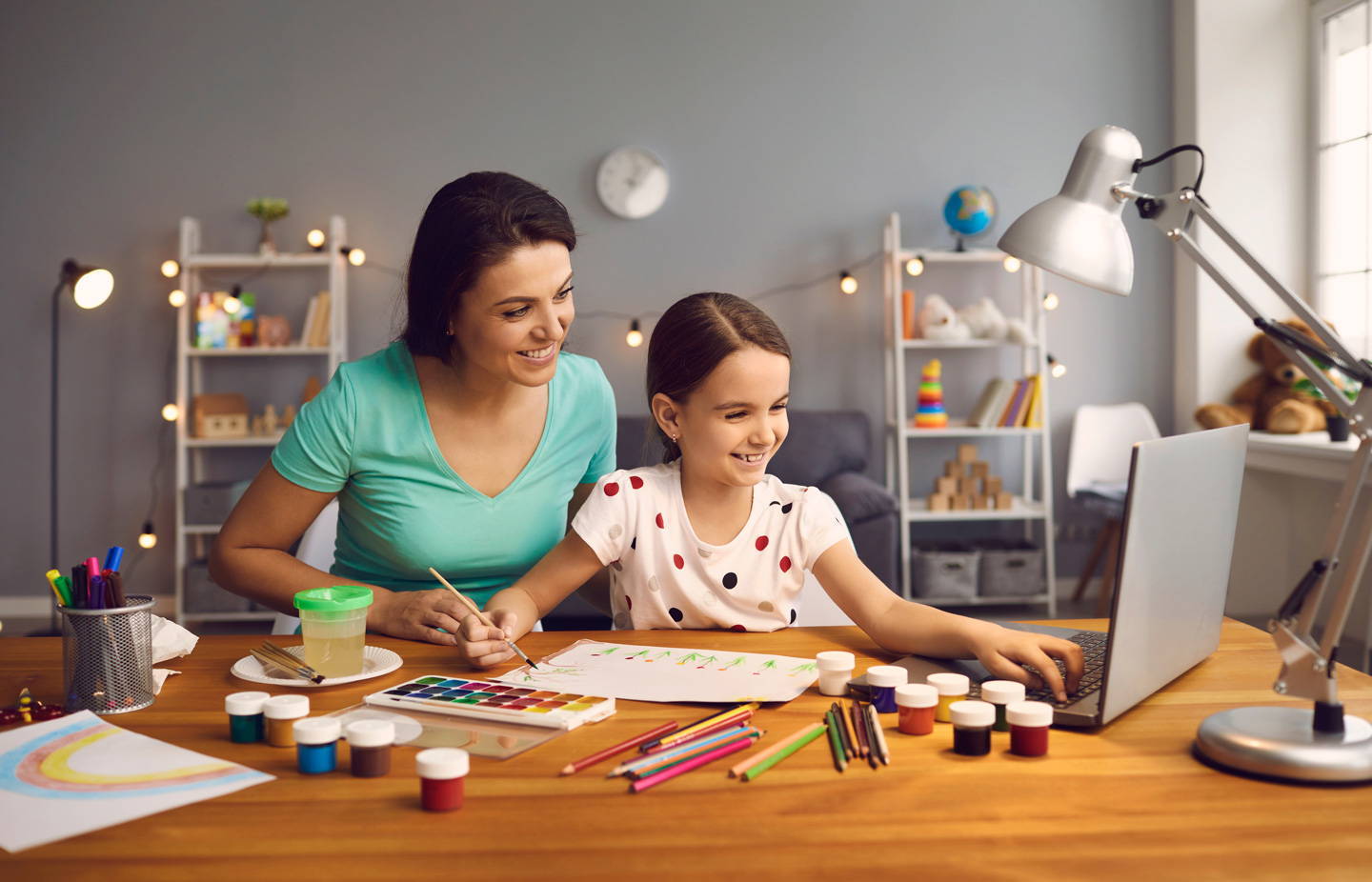 To sum up, select the online platform according to your needs and purpose and do enough research before teaching. Know your abilities and never stop learning new skills to strengthen and improve your online courses. Design your course step by step with carefully organized contents. Remember, longer classes are not always better. The most important thing is to make your courses truly appealing and compelling. A shorter, high-quality class is more likely to get watched all the way through, receive positive reviews, and attract more students. In addition, spending time engaging with your students and answering their questions will help them learn better.
Hosting online courses perfectly will take plenty of time and hard work, but the result is worth it. All you need to do now is take the plunge, unleash your unlimited creativity with vibrant and vivid colors and encourage people to create with you!