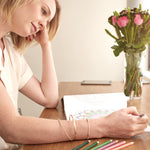 Unleash your creativity and stress with some flower paintings
Bring some colors and happiness into your quarantine life.
Art by: Instagram @rosies.sketchbook
Sunflower painting with Oil Pastel
Oil Pastel is a painting and drawing medium that is similar to pastels and wax crayons, as it consist of pigment mixed with a non-drying oil and wax binder. The surface of an oil pastel painting is therefore less powdery, but more difficult to protect with a fixative. Oil pastels provide a harder edge than "soft" or "French" pastels but are more difficult to blend.
No flower can lift one's spirit like sunflower, these cheery bloomers are bright as the warm summer sun.  Sunflowers are a symbol of happiness and optimism, they also represent longevity, love and loyalty.
Art made by: Instagram Cactuscloudsart 
Flower painting with Watercolors
Watercolor paint is a translucent art medium, basically it is a colored pigment in a water-soluble binder. The paint dissolves when you add water allowing the pigment to spread with a brush.
Watercolor is considered difficult to some because it needs to be planned in details and executed with speed, skill and confidence, but in the end it all depends on what the artist wants to master in.  Although it can be a good start for beginner artists to start, as it is inexpensive hobby to pick up.  All you will need is watercolor paint, piece of watercolor paper, painting brush, palette and some water to get started.
Art by: Instagram @alyssamaupinart
White & Blue Flowers and Rose Paintings with Acrylic
Acrylic paint is one of the most versatile mediums, and one of the least toxic.  It is water-soluble when wet, it dries quickly and dries into a flexible, water-resistant and durable surface.  It is applicable to many different surfaces such as paper, clothing, mugs, rocks, wood, glass, canvas' and any rough or glossy surfaces.  Give it try and you will find the joy it can bring you.
White symbolizes innocence, purity, humanity and reverences while blue symbolizes tranquility, openness, peace and serenity.  Color is an inseparable part of our everyday lives and its presence is evident in everything that we perceive. Choose your favorite color from our 24 vivid acrylic colors and start painting the flower that best represents you.
Pink roses can signify for femininity, elegance, refinement and sweetness, but different shades of pink has different meanings.  A deep or hot pink rose can convey gratitude, appreciation, recognition, a great way to say "thank you" to someone, while a light or pale pink rose conveys grace, gentleness, joy and happiness.
Art by: Instagram art_by_chinthika
Iris painting with Acrylic
Iris is a beautiful flower that earned its name from the ancient Greek Goddess, who was believed to be the messenger of the Gods. Using rainbow as her transportation medium as she moved from heaven to earth.
Purple iris symbolizes royalty, but it's not the only hidden meaning, as it can also represent wisdom, gratitude and respect.
What is your favorite flower and color? What does your favorite flower say about you? Pick up some paint and brush, draw the flower that best represents your personality.
Conclusion:
Researches have shown that painting is a wonderful art therapy that can help relieve stress, build self esteem, stimulate creativity, exercise the mind, displace negative emotions, improves focus and much more. It is vitally important for our mental and physical health.
There's an artist in all of us, if you haven't tried painting, give it a try and find out what it can do for you.
Visit our store and find the perfect paint for yourself or that special someone you care about and bring a little bit of colors into your/their quarantine life.
Colour your life with  Colour Block® !